We are going back to 1989 and on the 30th of August that year John Peel turned 50 years old.
To celebrate this event there was a surprise gig thrown for Peelie at the Subterranea, London…
It was planned that the Undertones would reform (with Feargal Sharkey back on vocals again) but sadly had to pull out due to one of the members having a family bereavement. The House Of Love stepped in instead.
The entire thing took place on the 29th and then broadcast on Peel's show the next night.
John Peel's 50th – Part 1
Mechanic Manyeruke of Zimbabwe: Happy Birthday, John Peel (especially recorded)
Introduction by Jon Walters and then live at Subterranea up on stage The Shend introduces:
House Of Love

Christine
Love In A Car
Shine On
Salome
Destroy The Heart
Man To Child
Can't Stand It
Back on stage live – The Shend introduces:
The Wedding Present

What Have I Said Now? (30 minutes in)
Crushed
Kennedy
Thanks!
Bewitched
Granadaland

» Download (50.7mb/55mins)
John Peel's 50th – Part 2
A quick into from The Shend and then:
The Fall

Mere Pseud Mag Ed
I'm Frank
Arms Control Poseur
Fiery Jack
Race with the Devil (Gene Vincent cover – they knew that Peel liked him and learnt the song)
Carry Bag Man
Mr.Pharmacist
After the band finished Peelie is called up on the stage. The crowd sing "Happy Birthday" and he addresses the audience, including the now famous quote:
"Think my chances of making the Liverpool side are gone now. Might still be able to get a game at one of those London clubs, though."
The show ends with: Barmy Army: Sharp As A Needle

» Download( 29.5mb/32 minutes)
Additional:
Click on the image below to view John Peel's Birthday Supppliment as published in The Catalogue.
After you've clicked scroll to the left for all the pages in the article.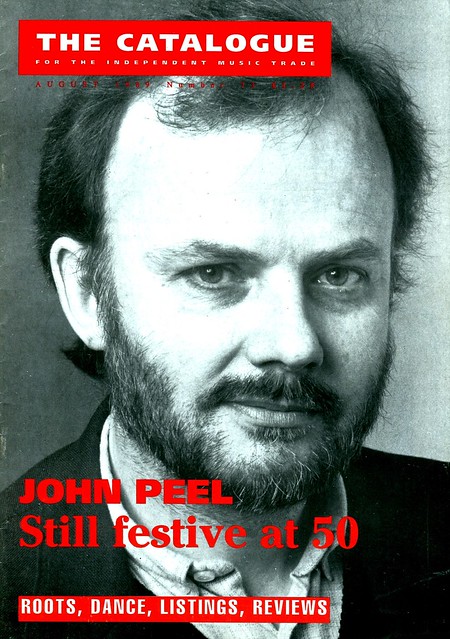 Additional additional:
BBC Radio 1 to launch pop up station with 50th birthday
"Radio 1 will launch a pop-up sister station later this year as part of its 50th birthday celebrations.

Radio 1 Vintage will broadcast on DAB and iPlayer for three days from 30 September.

Tony Blackburn, who was the first voice ever heard on the station, will team up with current breakfast show host Nick Grimshaw to launch the project.

Classic shows from the archive presented by the likes of John Peel and Chris Moyles will also be broadcast."